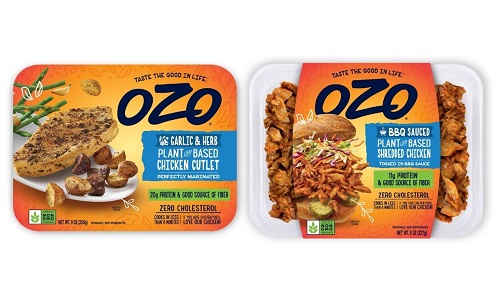 JBS USA-owned Planterra Foods' Ozo is expanding its line of plant-based proteins with the launch of True Bite plant-based chicken cutlet and chicken shreds.
Ozo's plant-based chicken products will be available in four seasoning options: garlic & herb cutlet, sea salt & pepper cutlet, BBQ shreds and rotisserie-style shreds. According to the company, the new offerings mimic the taste and texture of traditional chicken and are packed with protein, more fibre and less fat than regular meat.
"As time goes on, the demand for protein will only continue to increase and the world won't be able to satisfy that demand with meat-based products alone," said Planterra Foods CEO Darcey Macken. "With chicken being the most popular protein in the United States, it was clear we needed to create a plant-based option where people don't have to sacrifice this mealtime favourite and have a more sustainable option."
True Bite's chicken cutlets and shreds, which are 100% vegan and non-GMO, will be available at grocery stores nationwide in early 2022.
Earlier this year, Planterra Foods opened a new research and development centre in Lafayette, Colorado.