Health Care Product / Vegetable Chips Carrot
1 : We strive to preserve the carrot' natural coloring and nutrients through the process of vacuum frying.
2 : Best-selling of all of our vacuum fried products.
3 : Retains the carrot' natural flavor.
Picture of Product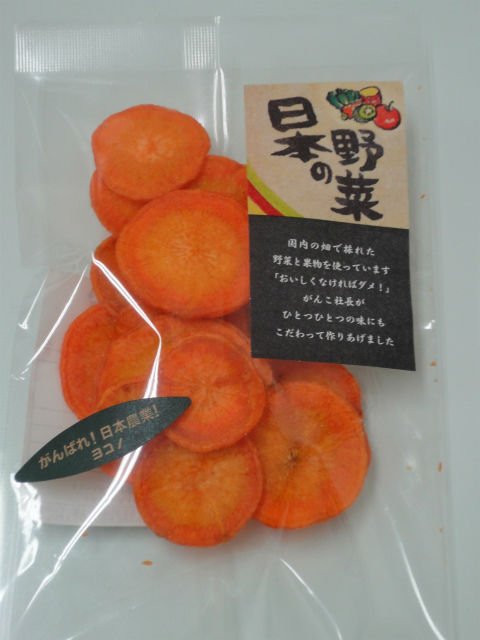 Carrot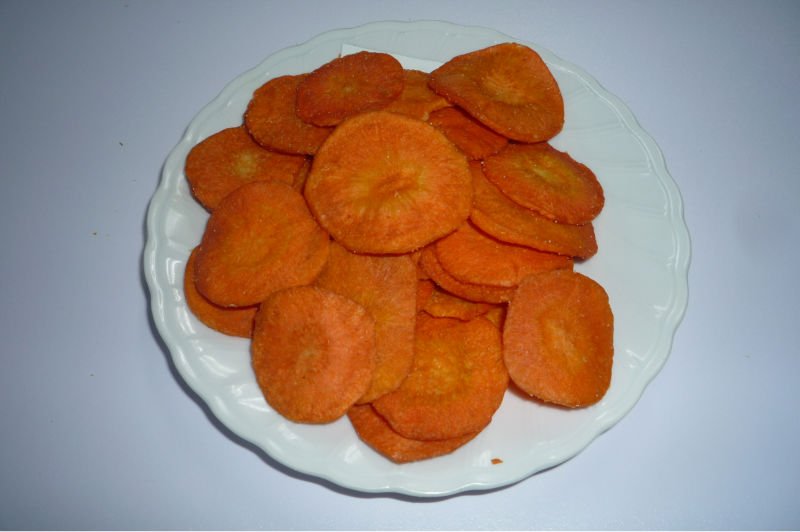 Plated Carrot Chips
1 : Ingredients
| | |
| --- | --- |
| Carrot | Hokkaido prefecture |
| Vegetable oil | Palm oil (Malaysia) |
| Glucose Syrup | Primarily corn (USA, other) |
| Trehalose | Corn (USA, other) |

2 : Product Specifications
Net Weight

27g

Bag Size

220mm x 130mm x 35mm

Bag Material

OPP (#60)

1 Case

24 bags included 425mm x 250mm x 130mm, 1400g

Drying Agent

Lime

Nutritional Information

Fat 20.4g Protein 1.1g Carbohydrate 75.7g Moisture 1.1g

Sodium 325mg Calories 476kcal/100g
3 : About sample
1)if you request,you can get a non free sample
2)if you request sample ,we send you invoice from paypal
3)After confirming your payment,we send you samples
sample: 2.2dollas/1piece
I will send it for actual expenses postage + fee 5 dollas.
I send it by small packet.
4 : About charges
1)Freight charges will be varied depending on your order quantity.
Japanese snack foods are praised around the world for their high quality and delicious taste, and are sold in supermarkets, department stores, and co-ops around the globe.
However, until now, the only products available overseas were those produced by major companies.
Most people overseas are unaware that the majority of companies in Japan are small companies that care deeply about their products.
Such companies provide products to Japanese people seeking safer, healthier food and snacks. We believe in these Japanese products made with care by small companies, and we hope to share such products with buyers and consumers around the world.