Friso Milk is now called "Hero". Same Ingredients, Same Formula, Different Packaging. Stock from Netherlands!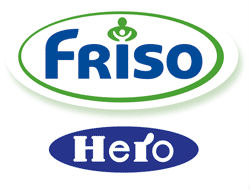 Milk Powder Toddler Milk from Netherlands Holland" ori-width="250" ori-height="189" />
Friso Baby Formula rebranding to Hero Baby as of 1 st March, 2014

As of March 2014, the renowned Friso Baby Formula brand will be known as Hero Baby. This means that all Friso Baby Formula products will boast both a new name and a new logo. The milk powder itself will remain completely unchanged with exactly the same unique combination of nutrients (such as Nutradefense), which have been specially formulated for the optimal growth and development of your little one.

Why from Friso to Hero?

You might wonder why Friso is changing its name to Hero, but it is not without good reason. In fact, Friso Baby Food has actually been a division of Hero for many years, although until now the name Hero was never applied to Friso Baby Foods in the Netherlands. And, as Hero is a leader in child nutrition in more than 20 countries, the rebranding of Friso Baby Formula to Hero Baby in the Netherlands is a logical step.
Press release from the company is available upon request.
See here for further details:
http://www.hero.nl/kindervoeding/
Origin & Expiry
Friso Hero Milk is direct from Holland, The Netherlands, Original Factory Manufacturer boxed stocks and not Supermarket collected stocks. All our goods are bought in to our UK warehouse to maintain quality control to make sure you get the freshest stocks.
The pick up and FOB location will be from our warehouse in the UK.
All Hero Milk Powder boxes are Genuine Dutch stocks and we aim to give you the freshest Expiry dates on the stock.
Configuration:
Friso Hero Toddler Milk Standard 4
Single Unit Weight - 700g Net
2 x Packets inside box - 2x350g
Case size: 4 Units per case
Pallet Config: 120 cases on a pallet (Mixing available when possible)
Minimum Order: 2 Pallets
Ask for Pricing: