Hot Sale Jasmine Dragon Pearl Tea
1.Green Pearl Tea scenting with jasmine flower
2.Reduces the Effects of Cigarette Smoking
Jasmine Tea Introduction:
Jasmine tea is a highly aromatic variety of tea which is flavored with jasmine flowers. In addition to providing a rich
floral scent, the flowers add a subtle note to the tea which many people find quite enjoyable.
Jasmine Tea is a famous tea made from Green tea leaves that are scented with jasmine flowers. The jasmine flowers
are harvested during the day and stored in a cool place until night. During the night, the flowers bloom with full
fragrance. The flowers are layered over the tea leaves during the scenting process. The quality of Jasmine tea is
determined by the quality of green tea used as its base and the effectiveness of the scenting.
Jasmine Dragon Pearl Tea Features
1. Long leaf tips are infuse with freshly cut jasmine blossoms and then rolled into small pearls,the pearls slowly
unfurl as they steep.
2. This type is a limited production of the highest grade of jasmine,featured by its sweet and pleasant fragrance.
3. By far the most widely popular jasmine tea,jasmine dragon pearl tea is enjoyed in most every country
throughout world.
4 . It is a wonderful way to bring you a little summertime to any time of year.
5. Jasmine dragon pearl tea,a kind of jasmine tea enjoys in most every country throughout world.
6. Has very nice jasmine aroma.
How to make Jasmine Tea?
To make jasmine tea, jasmine flowers are harvested at the peak of their blooming and then they are cured with
finished teas in conditions with carefully controlled humidity and temperature. As the jasmine flowers dry out, they
infuse the tea with their flavor; sometimes multiple passes of curing are used to make an extremely strong jasmine
tea. After the curing process is over, the tea is fired again to remove the moisture exuded by the jasmine, and then
it can be packaged for sale.
In some cases, jasmine flowers are left in the tea. This function is purely ornamental, as the flowers are essentially
odorless and flavorless after the curing process is over. However, they can look quite pretty as they rehydrate in the
tea water and unfold. The practice of leaving dried flowers in tea is actually fairly widespread, and many novelty teas
and tisanes include dried flowers or flower assortments to liven things up during the brewing process.
Jasmine Dragon Pearl Tea Functions:
According to Traditional Chinese Medicne, Green Tea; Dragon Pearl Tea is a sub-category of green tea, Clears the Head, Refreshes The Mind, Relieves Thirst and Restlessness, Resolves Phlegm and fatty deposits,
Promotes Digestion, Activates Blood. Opens the acupuncture channels. Its nature is Cooling, and acts as a
diuretic and astringent,
How to choose Jasmine Tea?
Ja smine tea can be made from black, white or green tea, but the most popular version is green jasmine tea. It is
made by a two-step process that involves first harvesting the tea and later scenting it with jasmine. The most expensive green jasmine tea is made from buds that have been hand-rolled into large pearls, High-quality jasmine pearls can be steeped again to produce a second or even third delicately scented cup.
The best jasmine tea is looseleaf, since it includes whole leaves, and no offcuttings or stems. Ideally it should be
brewed loose in a teapot and strained for service, although many people prefer to use tea balls for their brewing
since they are more convenient. Both oolong and green teas should be only briefly steeped, as they can turn bitter
with long steeping, and the water should be just below the boiling point for the best flavor and scent.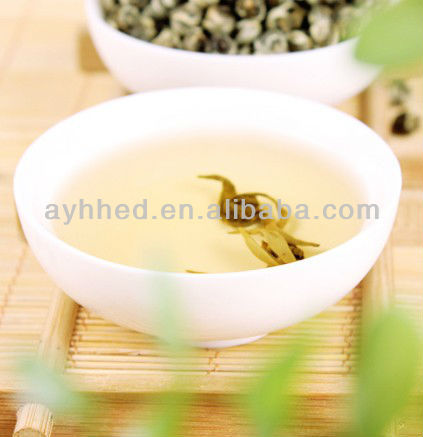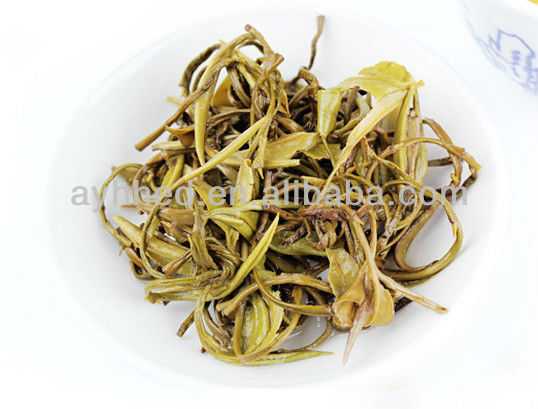 Thanks for your kind trust on us.Any inquiry or question, feel free to contact us on line or leave a message,we will reply you within 3 hours.Hope to be your long term partner!
Changsha Ayhhed Biotechnology Co., Ltd is always here for you!