Hydraulic oil press application scope
The automatic hydraulic oil press made by Henan Dafu has many advantages: easy to operate, high oil press rate, rare to replace wearing parts, so this oil press is the most advanced equipment which can replace of the manual operation of the SESAME OIL. This Machine can press at least 2 to 7 kilograms per batch, the time is about 4 to 6 minutes, so it is very suitable for the citizens who live in the big and medium cities because they want get the high quality of oil of spending money. It is also can be used in the countryside, because the speed of oil pressing is fast so people can bring their oil raw material to press oil. In this way, they can be assured of the purity of their oil.
This machine can be used for process many kinds of raw material: sesame, Walnut kernel, peanut, pine seed (better to get rid of the shell), almond, perilla , linseed and other oil crops.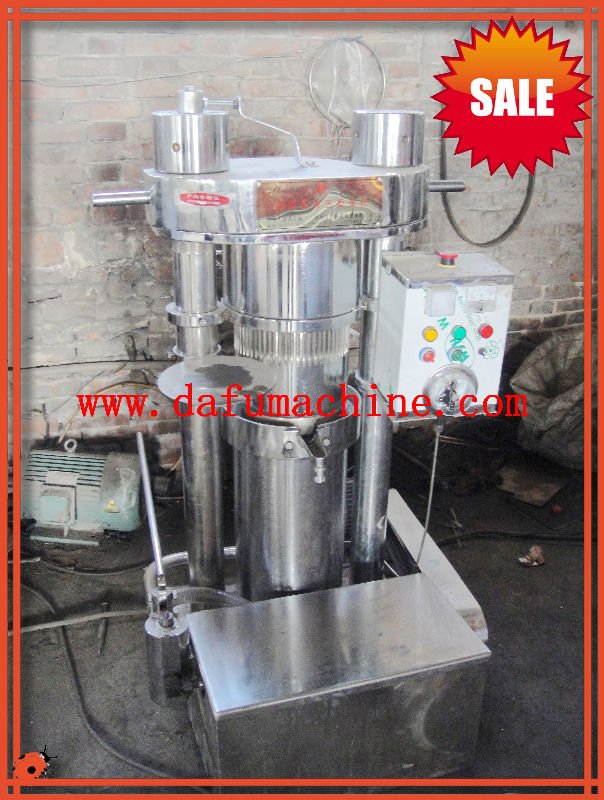 The following is the specific introduction
1. Main engine
Main engine includes base, upright, top plate, oil drip pan nut and so on; it is one of the main parts. Firstly the oil material is put into the assembly of the press boring, then it being droved up by the oil cylinder piston, oil will outflow from the gap of press boring ,and then pass the oil drip pan to the drum for oil storage.
2. Hydraulic system
Hydraulic system is the main power force of this machine, it includes transmission shaft, turbine, worm gear, gear pump, high pressure pump, overflow valve; super high pressure safety valve; hand-operated valve; seamless steel tube; pipeline connect and other spare parts. This machine adopts the advanced power pack of the world, and compared with two plunger pump, it is faster , higher pressure and can resist higher temperature, it can continue working when the oil temperature is above 65 but needn't cooling unit.
3. Electronic system
Electronic system is the most advanced part of this machine, it is fully automatic, easy to operate, and it needs no special request to the operator, so this machine is particularly suitable for peasant.
This machine is composed of motor, volt meter, pressure gauge, power insurance and so on.
Hydraulic oil press performance and form
1. This machine has the advantages of small volume and less land occupation; the operation is easy to learn, easy to understand, easy to operate, and needs not particular requirements to the operator.
2. This machine can save 50% power compared with stone mill.
3. This machine belongs to hydraulic oil press, and it has many advantages, such as high-pressure, high oil ratio, and the oil of final product is very clean.
4. This machine adopts full automatic control system, and no matter the preheat temperature or the pressure of hydraulic system, it is all automatic control.
5. This machine can be moved very easily.
Hydraulic oil press technical parameter:
| | | | |
| --- | --- | --- | --- |
| Models | 6YZ-180 | 6YZ-230 | 6YZ-320 |
| External Dimension(mm) | 800*650*1100 | 900*750*1400 | 1100*1000*1500 |
| Weight of machine | 530kg | 880kg | 1320kg |
| Nominal pressure | 1600KN | 2200KN | 3000KN |
| Max pressure for working | 55Mpa | 55Mpa | 55Mpa |
| Power of electricity heating circle | 1KW | 1KW | 2KW |
| Controlling temperature of heating circle | 70-100°C | 70-100°C | 70-100°C |
| Sesame weight/time | 1-3kg | 2-7kg | 5-15kg |
| Motor type and power(kw) | Y901-4-1.5kw | Y901-4-1.5kw | Y901-4-1.5kw |
Contact:
If you have any interesting in Hydraulic sesame oil press, please feel free to contact me! I'll give you a reliable price. My mobile:8615039094214
Thank you and best regards!