Japanese 5-year shelf life preserved cake/bread/muffin
Life Bread [EASE] series is a canned bread for long-term storage.
It tastes soft, pluffy and tender, just as freshly baked.
5-year shelf life, making it best for emergency stockpiling, as well as outdoors, hiking, and travelling.
No oxygen scavenger or Preservatives contained, safe food for everyone, from children to the elderly.
High-temperature vacuum sterilization manufacturing, the extremely strict manufacturing controls of Japan.
Ready-to-eat type with easy open can, a convenient food at anytime. 5 flavors, your best choice for all occasions.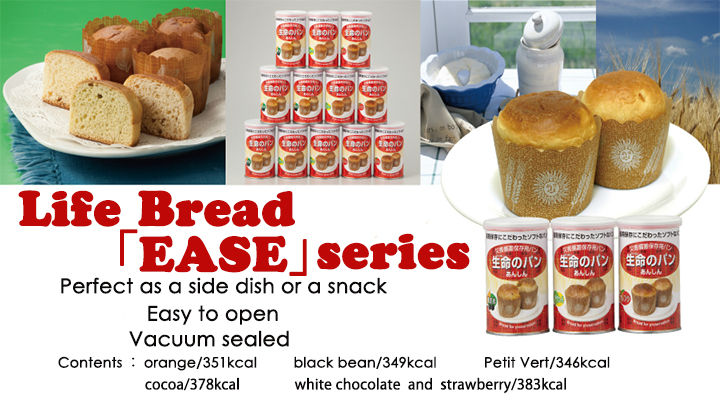 Black Beans / Petit Vert / white choco strawberry" data-width="720" data-height="400" ori-width="720" ori-height="400" />
--------------------------------------------------
Ideal for individual servings -
Perfect as a side dish or a late snack with a drink.
Easy to open -
Full opening can, with no long-term storage odor thanks to the high vacuum packing.
Vacuum sealed -
There is none of the sogginess that normally comes with canned food; enjoy the original taste and texture of the ingredients.
---------------------------------------------------
Orange
Refreshing and faintly sour taste of orange peel, ladies' favorite.
Black bean
Slightly sweet in taste,classic Japanese flavor.
Petit Vert
Petit vert is a leafy green vegetable which is a hybrid of kale and Brussels sprout.It's rich in Vitamin C and carotenes and many other nutrients, which is a new healthy choice for many.
Cocoa
The authentic scent of cocoa, a favorable taste for all.
White Chocolate & strawberry
An exquisite harmony of white chocolate and strawberry, sweet while fruity.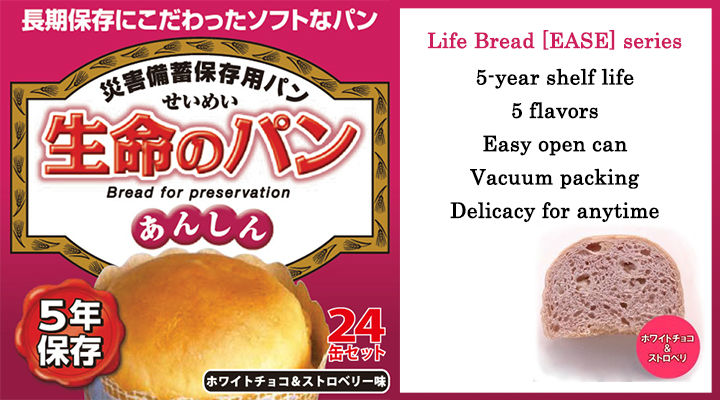 -------------------------------------------------------------------------
Our Life Bread "Ease" series is carefully selected for their ability to be eaten at room temperature and still be delicious. The long-life bread can be eaten in any survival situation, as well as for outdoor, leisure, and just a snack at tea time.
Contents:100g 2pcs/can
Calories:orange/351kcal,black bean/349kcal,Petit Vert/346kcal,cocoa/378kcal,white chocolate & strawberry/383kcal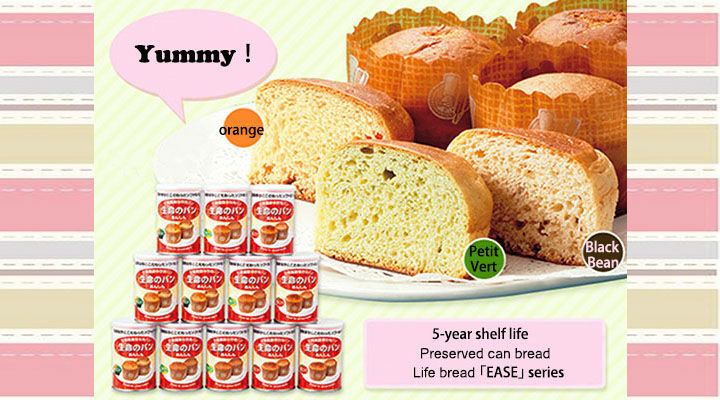 -----------------------------------------------------------------------
We are a professional fire and disaster prevention company with 50 years of experience in Tokyo. Equipment is a matter of course, but as part of emergency provisions we handle a great number of long-term food items. Most of our products are made in Japan and our quality management is thorough.
Our wareouse is continually stocked in order to meet customer needs as quickly as possible. However, because we prepare fresh stock for food and perishables as much as we can, here may be times when delivery takes a while; in a rush case, depending on amount it may be possible to ship samples from our stock, so please feel free to inquire.
Our company has received a large amount of public recognition for our contributions to the region over the years. We obtained the ISO27001:2005 Security Standard certification in 2010, allowing us to deliver an even safer and more secure service to our customers.