Rotary Oven

Bread rotary oven/prices rotary rack oven" ori-width="600" ori-height="50" />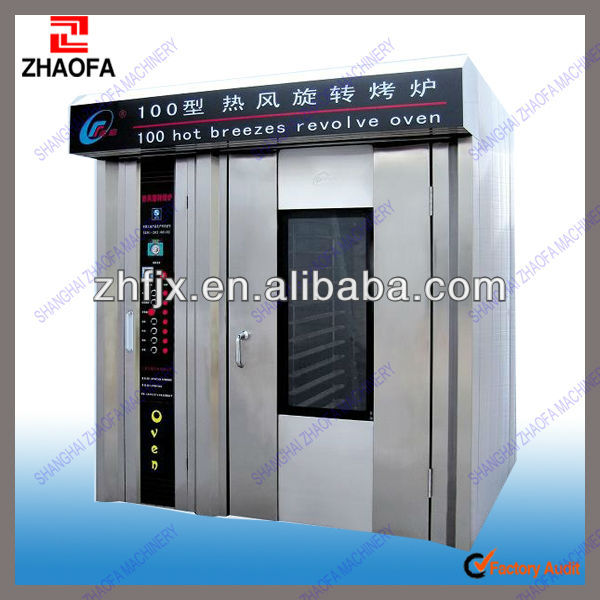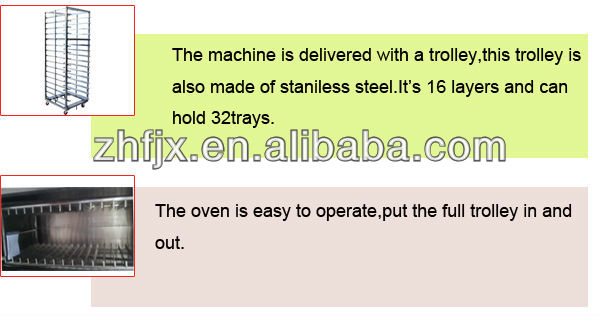 | | | | |
| --- | --- | --- | --- |
| Model | ZF-100G (gas) | ZF-100D(electric) | ZF-100C(diesel) |
| Fuel | GAS | ELECTRIC | DIESEL OIL |
| Voltage | 380 V | 380 V | 380 V |
| Capacity | 100kg/h | 100kg/h | 100kg/h |
| Power | 2.5 KW | 2.5KW | 2.5 KW |
| Heat power | 6000 KCAL | 48kw | 6000 KCAL |
| Fuel consumption | 1-2m ³ /h | 52kw/h | 2.5kg/h |
| Roast tray | 400MM*600MM*32 | 400MM*600MM*32 | 400MM*600MM*32 |
| Weight | 1300 KG | 1300 KG | 1300 KG |
| Dimension | 2000*1800*2100 MM | 2000*1800*2100 MM | 2000*1800*2100 MM |

1: Baking amount is large, one time can bake 1 trolley of 32 pans, 16 layers; Easy operation, one man operates, the whole cart can push out and in. And a unified color is ensured.
2. T he machine adopts PHE structure, facade the imported stainless steel, Baking room the imported plating ALCOT. For electric type, it works by effective heating tube, and for gas and diesel type, it works by imported burner of Italy Baltur.
3. The top of the inside oven has a circumrotate pothook, and adopt blast force heated air circulation; this can enhance the efficiency of the thermal transmission, and reduce the heating time, so it may cause a more frugal energy.