Newly zorbing ball equipment/body zorbing bubble ball for kid 2014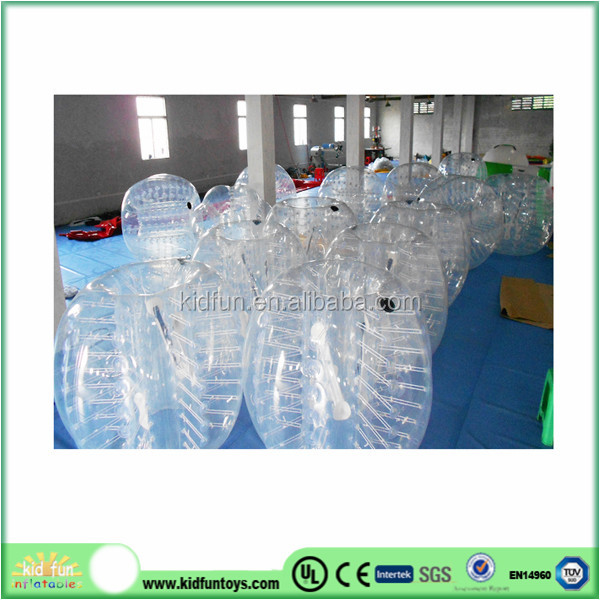 Description
Item

Inflatable bubble ball

Size:

Adjustable Size

Material:

Best PVC or TPU, high durability ,UV-treated, fire retardant,

water-proof & passed SGS certificate

Color:

Multi-Color, According to your request

Printing:

Digitally printing, Silk-screen printing or hand painting is available, guarantee 1-2 year no fade

Certification:

CE,EN14960, SGS, TUV, UL, ROHS

MOQ:

1 Pcs

Delivery Time:

7-20days after the order confirmed

Payment Term:

T/T, Western Union, PayPal,Cash

Shipment Way:

By Sea, By Air, By Express

Product:

OEM Or ODM acceptable

CE Blower :

1 Pcs

Characteristics :

Fire-Proof; Security-Guarantee; Durable

Anchor Rings for Fixation:

All seams are doubled and fourfold at the corner and at bottom stress point. Double stitching inside and double stitching outside, All high stress points are reinforced where applicable.5-6stitches in one inch. and to make sure the inflatables are strong enough.

Technique:

All seams are doubled and fourfold at the corner and at bottom stress point. Double stitching inside and double stitching outside, All high stress points are reinforced where applicable.5-6stitches in one inch. and to make sure the inflatables are strong enough.

Deflation :

All deflate positions have bidirectional zipper and the zipper will be cover with velcro flap. The zipper of our games according to the requirement of EN14960. So they can help you deflate the inflatable more quickly. We do reinforcement for all the zipper joints, and above the zipper, there is a zipper cover by velcro material which is help to disperse the zipper's stress. We may also make a inside PVC piece to protect the zipper.

Warranty:

3 years

Come with:

1. repair kits( same color material as products and glue)

2. warning signs

3. banner with your phone no/company name

Packing:

Inflatable product is packed by heavy-duty PVC carry bag; air blower is packed by exported standard carton
More styles
Our Durable Material
Our Factory mission is safe,Material is one of important factor.Our material is commercial grade PVC tarpaulin. It is water-proof, fire-retardant, UV-treated and passed SGS certificate. It has mesh fabric with pvc coating to provide the material higher strength and flexibility .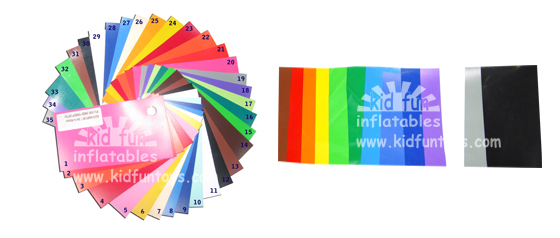 Our High Quality Control
All the products are manufactured to be safe and durable.
1 .All seams are doubled and fourfold at the corner and at bottom stress point. Double stitching inside and double stitching outside,
2.All high stress points are re-inforced where applicable.5-6stitches in one inch. and to make sure our inflatables are strong enough.
3 . Heavy duty PVC for inside baffling,usually we call these air room drawstrings. To help form the inflatable's shape.4. Heavy duty material will be more durable and can last for a long time.
4. All edges of the inflatables will be hemmed inside with pvc tarpaulin to reduce air leak. too much. So you don't need so much blower to work at the same time.
5. All inflatables include a backflow flap to slow down the escape of air from a game in the even of blower failure.
6. All deflate positions have bidirectional zipper and the zipper will be cover with velcro flap, So they can help you deflate. the inflatable more quickly.We do reinforcement for all the zipper joints, and above the zipper, there is a zipper cover by velcro material which is help to disperse the zipper's stress. We may also make a inside PVC piece to protect the zipper.
7. All inflatables from Kidfun Inflatables Industry Limited have strong tie down systems. Our products will have at least 6pcs anchor rings to fix the inflatables. For some big games more anchor rings on top and bottom. They make the inflatable steady enough.
All bottoms of wall from out inflatables have a buffer material to stop the kids stuck on the gap and also when players stand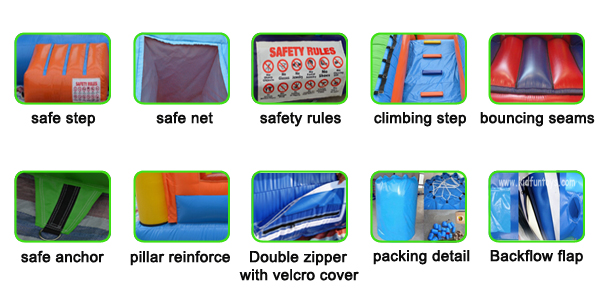 Our Painting Machine
Digital print, silk print, or hand painting. We have top skill worker to finish the artwork and printing. We imported the Korean painting machine, it print quickly and in good quality. The quality of print ink also meets the standard of SGS. Further more, we make a liquid protecting film on the surface of digital printing, the liquid protection is also imported from abroad. The high level painting makes AOQI product will not be sticky and color fade, but sustain a long time.
1. We have 3 kinds of printing, Digital print, silk print, or hand painting
2. Our digital printing meets the standard of SGS,it print in good quality. It will not be sticky and color fade, but sustain a long time.
3. W e make a liquid protecting film on the surface of digital printing, the liquid protection is also imported from abroad.
4. Our hand painting make by our top skill worker,they print are also very attractive.
Our top-ranking digital printing machine makes the printing artwork more clear and vivid.
1.Can you print my logo on the products?
Yes! You just need offer the logo by CDR,AI file to us.
2, How to get pricelist?
Please visit our web and pick out the item no. and email us, our sales man will reply your inquiry accordingly.
3, How to pay?
We accept TT bank wire transfer, Cash, Western Union, Papal and Letter of Credit. 50% deposit, balance before delivery.
4, What's included in your inflatable games?
CE/UL approved blower/fan (need to order).
Repair kit (glue and PVC materials)
Ground sheet? (optional)
Stakes and ropes for anchorage? (optional)
Removable slide sheets (for slides only), which can be replaced along with sliding mats. (optional)
5, What about Delivery?
Shipping can be made by sea, by air, or by express/courier (DHL/UPS/TNT/FEDEX). And freight charge can be prepaid or collect.
6, How long is the delivery?
by express or by air: 3 to 7 days
by sea: 10 to 30 days
7, What is the guarantee period?
Advertising products like tents, arches, cartoons are warranted for 1 year, games like slide, bouncer, combo have 3 years and the blowers& air pump with 1 year.
8, How to visit your factory?
Before you visit our factory, we can help with hotel reservation, picking up and other relative arrangements.
9, Can you design one specially?
Yes, please give us detail requirements.
10, What's your production standards?
CE, EN14960, EN 71, ISO9001, SGS
11, Minimum quantity?
1pcs
12, What about size and color?
We can custom make as per your requirements like shape, size, colour, logo printings, etc.
13, What's your material?
We have a large range of products and variety of material to choose. We normally use 1000D 0.55mm PVC, 18oz PVC for inflatable games, 8oz superflex material or PVC coated nylon for advertising inflatables, 0.6mm/0.9mm pvc tarpaulin for sealed water games, 0.5mm/0/6mm PVC tarpaulin for sealed tents. We will suggest the suitable material for the right product and we can meet your requirements.
14, Can you offer blowers?
We offer different kinds of CE/UL blowers for different markets in different power and plugs.
15,How about the package
We pack inflatable games by carpet at first, then put the package in tarpaulin bag so that the packages will not be frazzled during delivery process. In order to let you find your goods quickly, we will Paste a mark paper with your order number.
16, How to Install and Setup Inflatables?
1).please check the working place is even and smooth without sharp and keen points before use.
2).Position on a level ground area.
3).Lay out ground sheet in the area you have chosen for installation.
4).Open the package carefully and avoid using sharp knife or blades.
5).Remove unit from storage bag spread it completely.
6). Install ground stakes around perimeter
7).Close zipper flaps on rear of unit to make sure it is closed and secure.
8).Connect blower to tube, making sure Velcro strap is firmly secure.
9).Ensure the blowers will be connecting with the correct and steady electric voltage to avoid blowers burn-out;
10).Blower systems require a 20 amp service each.
11).Spread the units especially the column to help inflation.
12). Secure all tethers after the unit is fully inflated.
13) Do a safety check of blowers, slide & climb covers.
14) Do not operate in winds over 20mph.
17, How to maintain inflatable games?
1).Do not put the inflatable products under the temperature over 80 degree
2).Do not put the inflatable products under the rain
3).Please avoid walking on the inflatable products in the shoes
4).Keep the inflatable products far away the sharp goods when playing.
5).Ensure the inflatable product dry totally before store it, especially for the thread. It needs to be blowed dry after the rainy or humid days.
6).Do not store the inflatable products under the wet situation
7).Keep clean. It needs to be cleansed by clear water regularly.
8)Please ensure inflatable products are packed in our provided bags then store it
18, How to repair inflatable games?
1).The newly stitched threads need gluing firmly for children may rub them. If the adhibiting strip comes off, please glue it at once. If the pinprick gets bigger, please glue it or it will cause air leak and reduce the rigidity.
2).If there is joint breakages after long use, please glue them promptly. When necessary, it should stitch the joint breakages first, then be glued.
3).The conditions for gluing: A. Air Dehumidification; B. The Temperature above 20 ℃ .
The methods of gluing: A. Make the adhibiting strip and the adhibited surface clean. B. Apply the glue evenly and thin. C. Put two together and squash heavily when the glue gets white.
You will never regret to Choose Us! Why?
Kidfun Inflatables is a Factory who is specialized in inflatable products for 9 years,

strict quality control

and offer ODM/OEM service.

We have a team of professional designers

who have been designing inflatable games for many years, designing according to EN14960 Standard

We also have a professional workers who produce inflatable all are suitable for Europe and America Safety Standard, very safe and eviromental.This is very important to our products because most of our products are used by children.We aim to produce good quality inflatables which you will not fear about doing inflatable business with us.

Our sales people who are very knowledgeable, friendly and helpful, please feel free to approach us with any questions, concerns, ideas or suggestions
"Customer first,service first"is our principle,let each of customer get the best product and the best quality of service is our aim.