It is the heating, cooling, heat recovery, rapid Sterilization and other uses of the fine equipment.
Plate Type Heat Exchanger (dairy equipment, juice equipment)
Plate heat exchanger is composed of two different temperatures of fluid through the siding and cooling by indirect heat exchange the ideal equipment with high efficiency heat exchanger, heat recovery, thermal loss, small footprint, and assembled flexible, simple, Washable easy installation, long life, low investment and use of safety features.
Applied to the food and beverage processing:
1) Various types of dairy products: milk, milk powder, milk beverages, yogurt, etc.;
2) Plant protein drink: Peanut milk, milk tea, soy milk and soy milk drinks;
3) FRUIT JUICE drinks: fresh juice, fruit tea, etc.;
4) Cool tea drink: tea, reed rhizome drinks, fruit and vegetable drinks;
5) Seasoning: soy sauce, vinegar, Tomato juice, sweet chili sauce, etc.;
6) Wine products: beer, wine, rice wine, wine and other alcoholic;
Used in other industrial fluids processing: Pharmaceutical / dyeing / HVAC heat / chemical / power / heated swimming bath oil / metallurgy / hot water / marine / mechanical / heat recovery / paper / textile / geothermal / green / refrigeration.
Plate Sheet Type

BR0.05

BR0.1

BR0.2

BR0.3

BR0.5

Plate Sheet Material

SS304 or SS316

Single Heat Exchange Area(m²)

0.05

0.1

0.2

0.3

0.5

Plate Sheet Size(mm)

500*168

660*250

970*330

365*1183

450*1451

Plate Sheet Thickness(mm)

0.7

0.7

0.7

0.7

0.7

Angle Hole Diameter(mm)

38

60

75

85

110

Connect Pipe Diameter(mm)

28

38

46

90

116

Corrugation Form

"Y" type

Corrugation Space Between(mm)

10

12

12

14

16

Average Plate Space Between(mm)

3.8

3.8

3.8

4.5

4.5

Combined Heat Exchange Area(m²)

0.5~3

3~10

8~38

30~50

40~80

Max. Pressure (Mpa)

0.4~2

Max. temperature (°c)

Common:120-160 Especial:250

Heat Transfer Coefficient(w/ m² °c)

2000-6000
Structure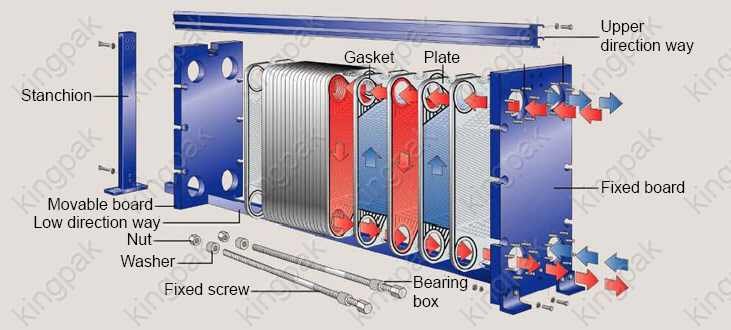 Combination plate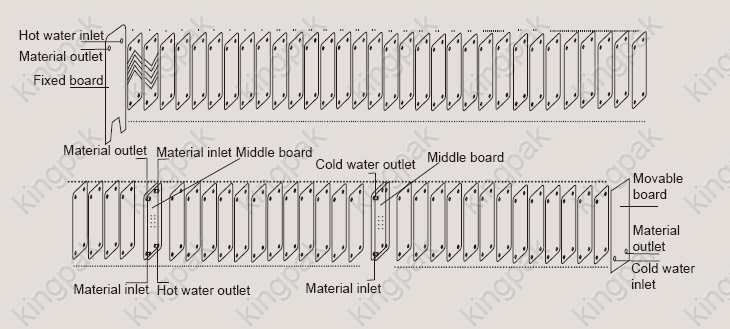 Model
Flow Process Model:
Plate heat exchanger temperature and flow according to the media, can be assembled into a single process, double-flow, three processes, and multi-process forms. Medium in a single process is a process flow heat exchanger, dual process is the exhumation of medium in the heat exchanger flows through the two processes, and so on. When using multi-process, the heat exchanger of the four interfaces can not be on the same side of the clamping plate, both before and after the inlet and outlet should be located in the clamping plate.