Pure coconut shell activated carbon for Water Treatment Ou Ya produce
Specification :
Iodine Absorb: 800-1100mg/g min
CTC: >55% min
Surface area: >1000 m 2 /g
Hardness: ≥95%
Drying alkali: ≤10%
PH value: 9-11
Ash: <3%
Moisture: <8%
Bulk Density: 0.5 g /CM
Particle Size: 6x16 Mesh/10 x 24 Mesh
(The above indicators can be adjusted as per customers' requirements)
Advantages of activated carbon:
Our granular activated carbon charcoal produced from coconut shell by a high temperature activation process
under strict quality control. It has a large surface area, high mechanical hardness, high pore volume and chemical stability.
This grade works well for air and vapor filter.
1. Non-toxic, odorless
2. Developed porosity, large specific area
3. Epigranular, little impurity content
4. Large strength, long service life
5. Quick decoloration and deodorization
6. Stable chemical properties, easy renewal
7. Widely used in PH range
8. High iodine value
9. Hard and durable
10. Uniform particle size;
11. Strong adsorption ability and fast adsorption speed;
Primary uses:
1) Purification for tap water, industrial water, pure water, drink, food, pharmaceutical
water, and electronics manufacturing
2) Decoloration, purification, filtration for medicine, food, chemical products, and Food Additives
3) Contaminant extraction, smell extraction for grease and oil products
4) In effluent treatment plant to reduce BOD / COD/ color from industrial waste water.
5) Removes chlorine & organic impurities from drinking water
6) Dechlorination of waters in swimming pool and soft drink plant
Packing:
Coconut shell activated carbon for water treatment (25kg/bag, 500kg/bag, 1000kg/bag) is packed in two-layer bag with plastic bag for inner packaging, woven bag for external
packaging or according to customers' requires.
Storage, Transportation &Cautions:
This product is non-toxic in normal use conditions, no stimulation of the skin, stored in the ventilation and dry place,
to prevent moisture. Avoid heat, humidity, Number of pile layer: less than 20, shelf life: 2 years

Notes and Caution/attention:
1, the operator should wear protective equipment, skin contact, or water wash.
2, using the on-site, usually rinsed with water to prevent slipping injuries.
3, this series should seal kept in a cool dry place.
Product pictures:
Packing and loading: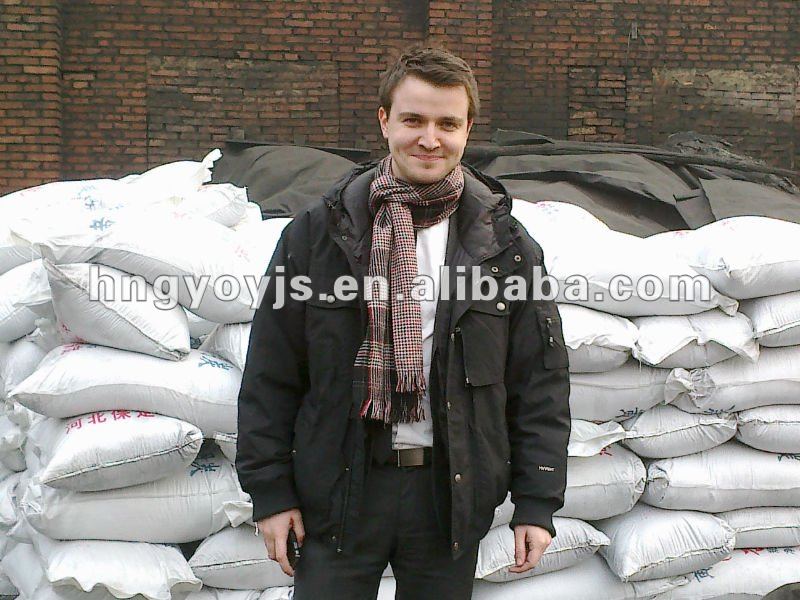 Activated carbon processing:
Certificate :