Product Name :Instant FRUIT JUICE Powder
Specs : 60---200Mesh, <1mm, <2mm
Used Part : Fruit
Form : Powder
Freeze dried products:
• Moisture content is around 2% with water activity usually under 0.1
• Shelf life is typically 18-24 months for Freeze Dried fruits and vegetables.
• Freeze Dried ingredients offer almost instant rehydration in hot or cold water/milk.
• Freeze Dried ingredients will absorb the level of water to take them back to their original state.
• The bulk density of freeze dried ingredients is usually low. They offer great visual value for a given weight of product.
• The freeze drying process is great for maintaining colour, flavour
and nutrient content of the original fruit/vegetable.
Application & Usage:
Freeze Dried ingredients are most suited to applications that require:
• Long shelf life at ambient temperature.
• Large visible pieces that look like the original fruit or vegetable.
• A totally authentic flavour.
• High intensity natural colours
• Instant or rapid re-hydration in hot or cold water or milk.
• A crispy texture that melts in the mouth.
• Clean ingredient declarations
• No added sugar
• No E numbers, additives or carriers
List of existing applications:
• Breakfast cereals
• Cereal bars
• Confectionary
• Instant soups & meals
• Speciality teas
• Retail herbs
• Snack foods
• Biscuits & bakery products
• Smoothies
• Nutritional products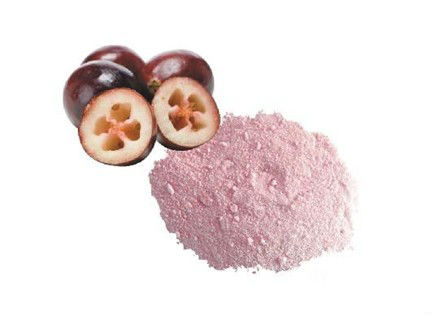 fruit list:
natural fruit powder,
mango fruit powder,
passion fruit powder
fruit powder processing machine,
Banana juice powder
Pomegranate juice powder
Plum juice powder
Sour cherry juice powder
Mango Juice powder
Red&White grape juice powder
melon juice powder
Orange juice powder
Guava juice powder
Pear juice powder
Pineapple juice powder
Strawberry juice powder
Lychee juice powder
Apricot juice powder
papaya juice powder
Peach juice powder
Pumelo juice powder
sugar-cane juice powder
Chestnut juice powder
Carambola juice powder
Persimmon juice powder
Packing and Storage:
Packing: 1kg/one bag or 5kg/one bag,25kg/Fiber,or at your requirment.
Double plastic bag of foodstuff inside, cardboard drum outside.
Shelf Life: 2 years when properly stored.
Storage: Store in Cool and dry place,keep away from strong light, hight temperature.
About us:
We can offer you stably a wide rage of Natural Plant & Herbal Extracts, Pharmaceutical Intermediate. Fruit Juice/ Powder.Health Care & Skin Care Materials.Natural Food & Chemical Additives,etc.
We trust that our experience in foreign trade and proficient knowledge of Chinese herbal medicine will entitle us to meet your actural requirements.
Retail is accepted , Agent is welcome.
Wish start business with you in soon future