Ursolic Acid 98% Powder | CAS 77-52-1 .

Product Information
Ursolic acid Extracted from Loquat Leaf/ Bearberry Leaf.
Botanical source: rosaceous plant loquat leaf
Product specification: 98%
Appearance: White Fine Powder
Detection method: HPLC
Molecular formula: C 30 H 48 O 3 .
Molecular Weight: 456.68
CAS NO. : 77-52-1
Synonyms
Malol, micromerol, urson, prunol, (3b)-3-hydroxyurs-12-en-28-oic acid.
Main Function:
1. Reduce blood fat and blood pressure;
2. Anti-atherosclerosis;
3. Improve the circulation of coronary;
4. Anti-cancer and antioxidant.
Certificate of Analysis
| | |
| --- | --- |
| Items | Specification |
| Appearance | White Powder( Relate to Purity ) |
| Oder | Characteristic |
| Taste | Characteristic |
| Paiticle size | Pass 80 mesh |
| Loss on drying | ≤5% |
| Heavy metals | <10ppm |
| As | <1ppm |
| Pb | <3ppm |
| Assay | Result |
| Ursolic Acid | ≥25% |
| Total Plate Count | <10000cfu/g or <1000cfu/g(Irradiation) |
| yeast & Mold | <300cfu/g or 100cfu/g(Irradiation) |
| E.Coli | Negative |
| Salmonella | Negative |
Health Benefits of Ursolic acid
Ursolic acid has medicinally action, both topically and internally. Ursolic acid is used in many cosmetic preparations for its anti-inflammatory, antitumor and antimicrobial properties.
Ursolic acid has antibacterial and antifungal activity. Tests have shown that Ursolic acid inhibits the growth of Candida albicans and Microsporium lenosum.
Ursolic acid has anti-inflammatory properties and is used in ointments to treat burns.
Topical application of ursolic acid inhibited TPA-induced initiation and promotion of tumor growth.
Applications:
* In cosmetics, ursolic acid has a variety of applications.
It is used to treat and prevent scalp irritation and to stimulate hair growth . It may also help reduce or stop dandruff .
It's ability to stimulate blood flow is what makes it especially useful in treating scalp problems.
* Ursolic acid is also used in the cosmetics industry in antiaging products.
It creates a barrier that repels oil on the skin, just as it does in the peel and bark of plants.
This barrier helps keep moisture in the skin. It also helps to increase the skin's elasticity by restoring collagen.
The use of ursolic acid on the skin can create more moisturized, younger-looking and feeling skin.
* Ursolic acid's anti-inflammatory properties make it a valuable medicinal tool as well.
It is used both internally and externally to reduce inflammation .
Its anti-inflammatory qualities make it useful in creating topical treatments for burn patients, for instance.
Its antimicrobial and antifungal properties also make ursolic acid important in treating bacterial or fungal infections, such as diarrhea and urinary tract infections.
* Additionally, ursolic acid has also been shown to stop the growth of cancer cells, and doctors often use it to treat tumors; it has been found to be more effective than retinoic acid, a widely used antitumor agent.
Packaging:
0.5 KG/ Aluminum Foil bag, OR as your demands.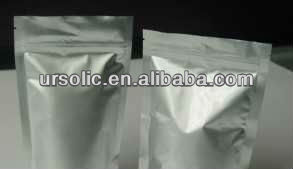 25 KG/DRUM or as your requirement.